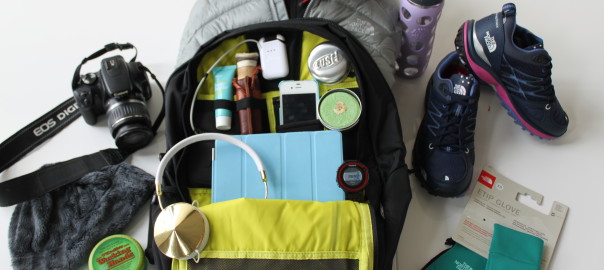 It goes by many names other than backpack. You know the one. The bag you put your laptop in, but the one that contains all the gadgets you might need in any given situation when you are away from home. Every techie has one, and everyone organizes theirs' a little differently.
Besides the obvious, there are some must-have gadgets every techie should throw in their bag. If you vape, you might have a kit like the SMOK T Priv and some e-liquids on hand. You should definitely have a water bottle, and one that filters your water is ideal. Snacks are a must too. You don't want to get hangry out there.
For gadgets though, here are a few "must haves" for your to-go bag.
Backup Power
One of the worst things that can happen away from home is to run out of power. This means that there are a few devices you should carry at all times.
Power Strip: You can get these that are compact and easy to carry, but convert that one plug in the airport or on the conference table to 3 or more plugs.
Backup Battery: For those times when you are not near an outlet, it is handy to have a backup battery source charged and ready to go. Mophie makes some great ones, that can give your phone anywhere from 12 to 100 hours of backup time and can even power your laptop for a while.
Solar Power: An emerging trend is backpacks with built in solar, or portable solar panels you can set up nearly anywhere. These can charge batteries as you walk and give you hours of power.
Car Charger Adapter: In case you are traveling by car, you at least want a car charger for your devices, but you also might want an inverter, so you can plug in computers and other devices to charge them.
Having power options is an essential part of techie travel.
A Streaming Device
Your hotel room might have a television, but it might be restricted by crappy cable channels or over the air options. You also might want to use it as a monitor. A streaming device can let you screen mirror to it, or even stream your favorite shows and movies at some point. There are a few different options for you, depending on your technology needs and budget.
Amazon Fire Stick
Chromecast
Roku
Apple TV
Any of these devices will let you mirror your screen, but the Apple TV will have more functionality with other Apple products, and the Chromecast works well with PC and Android devices.
Picture This
While out and about, you will want to get some good photos. The camera on your smartphone is probably pretty amazing, but you can use a few gadgets to make your photos better.
Small Tripod: To stabilize almost any shot using your camera timer or a remote.
Selfie Stick: Great for group shots, and often they are "smart" or connected, and allow you to activate your phone camera remotely.
Smartphone Lenses: Even if you don't have the iPhone X or Pixel 2, you can enhance your camera with a clip on lens, from a macro to extra wide or fisheye.
Make your photos great with a few simple gadgets (and an app or two). From stabilization to taking a great group photo, you can make your phone do more for you.
Better Memory
One of the best on the go gadgets any techie can have is more memory. Fortunately, memory has only gotten cheaper recently. Backing up your work, photos, and more is essential, and if you do not have access to good Wi-Fi, cloud backups can be really impractical. Depending on the space you need and how much you want to carry in your backpack, you have a couple of choices.
Flash Drive: Flash drives are far from the little thumb drives with tiny capacity they used to be. You can get large memory, like 500 GB or larger drives for a really reasonable cost. These are compact and easy to throw in nearly any bag.
Backup Hard Drive: A more reliable choice is a backup hard drive. These solid-state drives are nearly indestructible and can hold a ton of information. Even 4TB solutions are affordable for most situations.
SD Cards: While these are not nearly as popular as they once were, they are still useful for cameras and some other devices. Having a few along will make sure you don't run out of memory for photos, video, or other applications.
Having the right memory in your backpack is key to keeping your data safe while you are on the go and being able to access other files if need be.
Conclusion
The techie world is filled with cool gadgets you can use for a number of applications, but these are four essential, must-have gadgets every techie should have in their backpack.
What are your favorite essential tech gadgets that you carry in your bag? Leave us a comment with your thoughts below.