Cutting boards are essentials of kitchen cutlery and are often considered as important as knives. These wooden or plastic boards have made the kitchen work of cutting, chopping relatively easier. If these boards are eliminated from the cooking areas, it would result in a horrendous, defying cooking experience.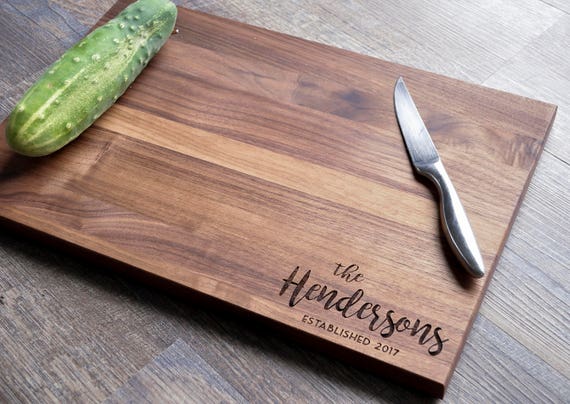 Custom cutting boards are available in various shapes and sizes and can be personalized depending on the preferences of the users. Custom, personalized cutting boards may be made of hardwood, bamboo, glass or marble.
Whether you are using them for cutting meat or chopping vegetables they need to be properly cared for.
However, the idea of buying a cutting board usually haunts the minds of the kitchen makers. What kind of boards should I buy? What size is appropriate? How do I select the right board for my kitchen?
Whether you are buying the board for the first time or it's hitherto in the kitchen. There are some things you must keep in mind while working with custom cutting boards. Have a look at these vital facts on cutting boards.
1.You Need a Bigger Board then you think:
Buy the largest cutting board for the prepping task. Being the kitchen counters the best companion, they facilitate you with a greater space to cut and chop without getting other items in your way.
Who wants to chop on a small board and get distracted by food piling up over again? So why not choose a large board and solve these kitchen hassles?
A bigger, extensible chopping block ensures a safe and smooth cutting and provides a plenty of space to pocket all the chopped and cut items.
2.Wisely Choose the Type of Boards:
There are differences between the boards used by butchers and the cutting boards used by chefs or kitchen makers. The cutting boards used in kitchens have the grain running the length of the board while the butcher's block has wood grained up on the end.
As a golden rule, the boards used in the kitchen should be wood or bamboo made. For, these boards are smooth for sharp knife edges and are eco-friendly in nature.
3.Bamboo Boards- Learn them Thoroughly:
In recent times, bamboo cutting boards have gained popularity of hardwood or maple cutting boards. The main reason why bamboo boards are much preferred is their lightweight and relatively cheap cost. Moreover, these boards are attractive, reasonably priced, eco-friendly, customizable, and safe for sharp-edged knives.
4.Two Cutting Boards is Smart Decision:
Having two boards, one for chopping fruits and vegetables and the other for smelly food items like, fish is a smart kitchen decision.
Considerably, plastic boards should be used for meat and fish cutting. This is generally done to avoid the cross-contamination of fleshy food items with wood fibers. Further, plastic boards can be easily sanitized in dishwashers.
5.Regular Maintenance is more than Enough:
When custom cutting boards are cared for and maintained regularly makes them last longer. Wood or bamboo boards should not be put in a dishwasher and dried properly. To prevent the boards from getting dried up, they should be treated with mineral oil time and again.
Not just wooden boards need care, plastic or glass cutting boards should be cleaned immediately after use. This will probably keep them away from bad odor.
However, the best of maintaining the cutting boards is by keeping them clean and dry with proper reconditioning. Moreover, the custom cutting boards should be sanitized so as to make them free from odors and stains.