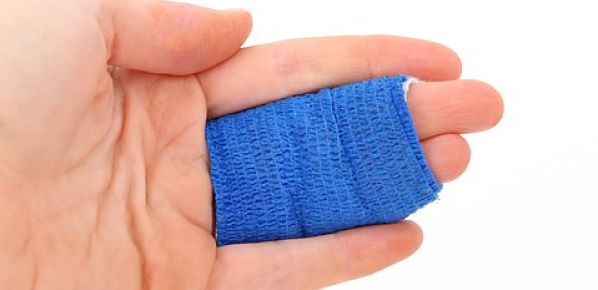 As children, we are always asked what we want to be when we grow up. From teachers to firefighters; doctors to police officers, there are always common answers. As little kids, we don't choose our dream jobs based on the concern for danger. Yet, no matter what job you have, there's a possibility that you may be injured at work.
Most jobs carry a slim chance for an accident. You may fall off of a ladder or your chair, get in a car accident on the way to an on-the-clock meeting or end up involved in some other fluke incident. But other jobs have a high potential of injury, including law enforcement and construction work.
Regardless of the type of work you do, you never plan to be injured in an accident at work. If you were, though, you need to have those injuries treated, and that involves filing for workers' compensation benefits.
An on-the-job injury has a special set of procedures and guidelines you must follow if you want to be eligible for worker's comp benefits. Your personal insurance won't cover your medical bills if they know the accident happened at work. Those looking to make a work injury claim may want to reach out to a lawyer to help them with the whole process and ensure that they get what compensation they deserve after having sustained an injury on the job.
To ensure that you aren't responsible for your medical treatment and missed time from work, keep these 8 tips in mind after a workplace accident.
8 Important Tips to Remember if You've Been Hurt at Work
If you are ever involved in any kind of accident, remember that your health and safety comes first. Protocol and guidelines can be taken care of as soon as your injury is addressed and your health is stable.
With that addressed, don't skimp on reporting your workplace accident quickly. There are many timely reporting and filing limits that you are probably not aware of that can keep you from being eligible for your benefits. Workers comp injuries fall into a unique category with special rules and guidelines, like:
1. Make sure you get immediate treatment. If your injury is serious enough to call for emergency help, don't hesitate. If not, find your way to the emergency room quickly. This initial treatment is important to show the insurance that you were injured but sought care to help reduce the damages.
Once you've been seen in the emergency room, you can follow up with a primary care physician that is on your employer's approved list of doctors.
2. Complete the necessary paperwork. You and your employer will be required to complete copious amounts of paperwork documenting the events of the incident and your injuries. This documentation is important for you to ensure your benefits are fully offered to you and for your employer to be following the Occupational Safety and Health Administration (OSHA)'s strict recordkeeping requirements.
3. Severe incidents have their own rules. Workplace accidents that result in a fatality, amputation, or loss of an eye have to follow OSHA's guidelines for these injuries. Within 8 hours of the fatality or injury, the victim or their representative must call or report to the nearest OSHA area office or submit the electronic reporting application located on their website.
4. Follow up with your medical provider. If you want to continue to receive your workers' compensation benefits, make sure you follow your doctor's orders. If you are injured but neglect to care for yourself the way your physician recommends, you may lose your benefits and any potential for compensation if you decide to file a lawsuit.
5. Pay attention to your finances. Even if your workers' comp representative tells you that you are only eligible for certain financial benefits, keep a log of everything you spend money on that is related to your injury.
When you are in an accident, your workers' comp attorney may be able to get you compensation for missing work due to your recovery, missed work and mileage for doctors' visits, prescriptions, and more.
6. Keep your own documentation safe. Whatever you file with your employer, keep a copy for your own records. Write a description of the incident in a journal and document as much as you can remember, including the accident scene, the events leading up to it, and what happened after.
Continue to keep the journal documenting your injuries, your daily progress and setbacks, and your doctors' visits.
6. Stay in communication with your employer. It's illegal for you to be fired from your job because of an injury that happened at work, but the job you did still needs to be performed. Your employer and coworkers are probably taking the brunt of your empty position, which is fine while you recover, but they want to be kept updated as to your situation.
This communication often means the difference between your employer finding a legal way to fill your position and you getting your job back on good terms.
7. Be cooperative. There will most likely be an investigation after your accident. This is not a reflection of you or an insult to your character. It's standard operating procedure so that your employer does not end up fined by OSHA and also to hopefully prevent the same type of incident from happening in the future.
Try to make yourself available for questioning and be cooperative. If you have retained an attorney, let your lawyer handle this part so you can focus on healing.
8. Protect your rights. You should always talk to an experienced workers' compensation lawyer after you were injured at work. This step lets you know what you should expect as you recover. Your attorney will guide you through the process and be by your side to protect your rights in the event that any obstacles arise.
Follow These Tips for the Best Outcome
Ultimately, you are the only one who can decide how well you recover and whether you follow workers' compensation best practices. Your behavior and actions after your injury will determine if you get your full benefits or not.
But by following these 8 tips after an accident at work, you are protecting your rights and focusing on working towards the best possible outcome for you and your health.