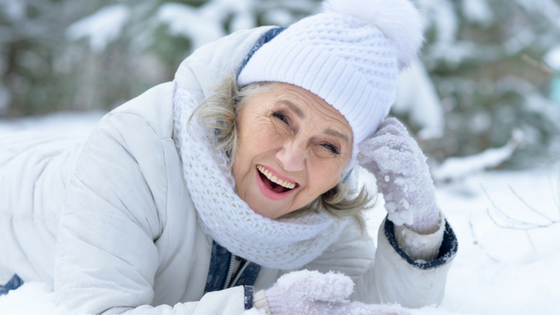 The UK may be basking in a long, hot summer at the moment, but as we enjoy it, we should be mindful that it won't last forever – as much as we'd like it to. As the days start to shorten and temperatures drop, the onset of winter can be a worrying time for the elderly, but a Helpline care alarm can give them an added layer of protection.
As we go through the last days of summer and into the autumn, many of us start to make preparations for the winter. Reversing our wardrobes, replacing our summer clothes for the warmer, thicker, winter ones, and digging out our gloves and winter coat in readiness. But as we nudge the heating up bit by bit and start planning for Christmas, we sometimes forget that for the elderly, it's not quite that easy.
Keep in touch
While keeping our homes and ourselves warm in winter is a priority, we can forget that many elderly friends, neighbours and even relatives might not have it so easy. But it's not always keeping warm that poses a risk, there are often other mental and physical problems involved as well that can have an impact on the elderly and their care.
One of the main drawbacks for people in winter is the darker evenings. In the depths of November, December, and January, the weather can be wet, windy, or cold – sometimes all three – and it can get fully dark by late afternoon. For the elderly, this can prove to be isolating to say the least, especially as they may not want, or be able to leave their home due to the cold.
For any elderly friend or relative who lives alone, or even elderly couples, it's vital that they maintain regular contact with their friends, families or carers throughout winter. Loneliness can be just as damaging to the elderly as the cold, so adequate and regular contact should be readily available for them.
Whether that's in the form of a 'pop in', longer visits for a cup of tea and a chat, or telephone calls to catch up on each others news. Breaking the cycle of isolation can be hugely beneficial for anyone living alone – and it can prove to be a lifesaver.
Encourage winter warmers
Of course, the cold winter temperatures are often headline news for the elderly, with harsh, freezing weather bringing with it the threat of several health issues. Many older people often don't feel the cold as much, but this can make those individuals more susceptible to hypothermia where their core temperature is dangerously low.
Even if the winter weather is not particularly severe, the lower temperatures can make the elderly more vulnerable to colds or chest infections. If they don't have the finances to heat their home properly, or they choose to keep the heat low to save money, it can lead to health problems.
The optimum temperature for a living room is 18˚C (64˚F), while a bedroom should ideally be heated to 21˚C (70˚F). While most of us think nothing of nudging the thermostat up a few degrees, for many elderly people, especially those on their own, money can be a concern. If this is the case, encourage them to wear extra layers, keep their windows closed, and regularly drink hot drinks to help keep them warm.
If you're worried about any elderly friends or relatives who may not be able to have adequate heating for any reason, or if they suffer a boiler breakdown and aren't sure what to do, a personal Helpline care alarm can be an easy way to alert a named contact for instant help.
Extreme weather
One of the biggest restrictions to the elderly across winter is being able to get out and about. As we know, the weather can play a big part in this when it's cold and wet. But another important factor to take into consideration is freezing weather and the real risk of slipping on ice.
Freezing conditions make it difficult for all of us, but a fall due to slippery steps or pavements can have serious effects on the elderly. These circumstances mean its natural for any elderly person to want to stay inside, but in doing so, it prevents them getting out to visit the shops for food or to pick up any medical prescriptions.
Make it part of your routine to pick up any supplies they need for them and make sure they're stocked up with extra food and essentials if the worst weather hits. You could also buy in a supply of salt or sand for them and spread it over pathways or steps. This can can remove the worst of the ice from essential areas, making it much safer to get around.  
In the risk of a potential fall or slip in extreme weathers, investing in Helpline panic alarm can give you and the elderly wearer real peace of mind in the worse case scenario.
Boosting Immune System
Keeping your elderly loved ones healthy with an active immune system will help to see them through the winter season without the fear of coughs, colds and flu which can often lead to pneumonia in the elderly. Vitamin C is considered to be the jewel in the crown of vitamins to boost the body's overall defences. The latest innovations come from a company called Abundance & Health in the form of Liposomal Vitamin C.
Helpline alarms for the elderly
By looking out for your elderly friends or relatives, staying in regular contact, and making sure they're safe and warm, it makes a potentially scary time a lot less stressful for them. But at any time of the year, in any weather, in case of any emergency, such as a fall or an accident, one of the most effective ways to alert someone for help is by using a Helpline care alarm.
By wearing an easy to use and fully waterproof alarm, either as discreet pendant around the neck, or a wristband, it will put the elderly user directly through to Helpline's emergency response centre within seconds of activation, 24-hours a day, 7 days a week. The first responder can then contact either the next of kin or other family member, a doctor, or any emergency service.
Each Helpline personal alarm can be used wherever and whenever it's needed – even in the bath or shower. The alarm's long range will work up to 50m away from the base unit, so the alarm still operates if they're out in the garden. And there's a range of Helpline pendant and wristband single care alarms for anyone who lives on their own, or for friends or relatives living together.
The Helpline personal alarm service can give both you and your elderly friend or relative complete peace of mind every day of the year – whatever the weather. For more information, call our customer service team today on 03458 247999 or visit Helpline.