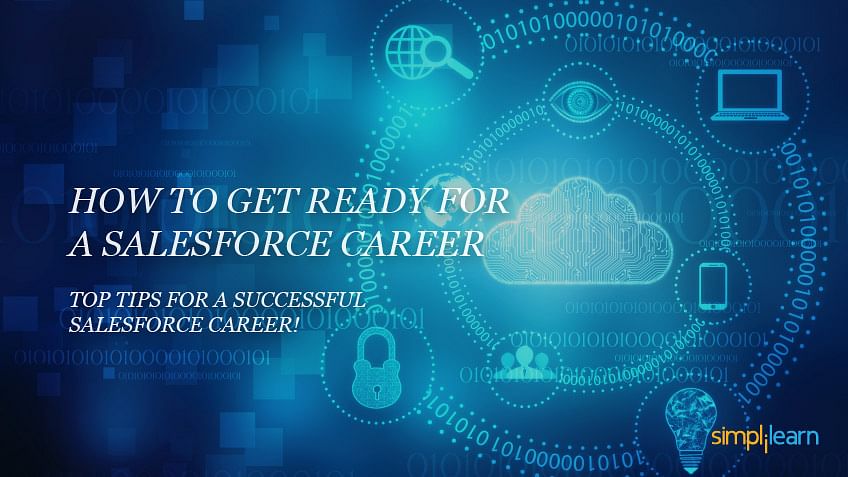 Are you are going to become a certified Salesforce professional? You have to wear different hats in a Salesforce career. This position is known in various titles such as Business Analyst, Business System Analysts, CRM System Analyst, System Administrator, and many more…
The role of these job titles is the same; they have to solve business issues. The more the responsibility, the more the demand and salary. Because of the multiple benefits of this role, the demand for the role is also high. As a result, you have to prepare thoroughly before you enter your interview. You can prepare for this by looking through books, take short refresher courses or read articles about interview questions and answers, to help you understand what employers are looking for.
A Salesforce career is associated with a number of benefits; let's have a look:
The Benefits of a Salesforce Career
The company you are going to join is Salesforce implemented. Say, for instance; this application is made to streamline daily activities of the business; however, none of your co-workers know about this software. Your manager gets nervous about what to do, and there's where you enter. You are well-equipped with Salesforce expertise and are ready to help your team by using the Salesforce software at its complete potential. Your manager feels grateful to you after knowing there is someone who can handle it.
This means appreciation and promotion takes reins for your learning and acquiring the Salesforce application.
Higher Return on Investment (ROI)
If you are in doubt, then think of the return. Many certification courses are there that indicates a great return from training investment. It is much higher considerably regarding Salesforce certification compared to the other courses. If it is for your business or job, then anyway it is worthwhile.
Offers Experience with Real-Life Situations
The training course for Salesforce is meant to offer. You're a real-life experience. Lots of materials you handle industry related live projects, reals life case studies according to the situations and scenarios to make you learn practically. In the 12 hour training, you devote on live projects and the other 20 hours in lab section you get from Salesforce certification.
If you have some experience in salesforce professions, you should get certified. The company or organization you are working in want to increase customer's active presence and the company name become popular among customers. When people acknowledge your company product and services, then this salesforce certification helps you in earning all these.
Efficient Account Planning
With a successful Salesforce career, you get a better understanding of the Salesforce platform. Therefore it helps you in changing the application quickly to handle the customer requests easily and precisely.
You are perfect with Salesforce credential; you come to a position where you help your organization in optimizing their Salesforce instantly and customize it by client's requirement. The salesforce certification increases your knowledge and skill to constitute salesforce, you starting shining over others and leads you to become the star performer of your company.
A Must for a Salesforce Job
Today for any Salesforce related job, this certification is necessary. So if you are not at a certified one, you may not get calls after attending the interview perfectly. You can get rejected due to lack; therefore, for a better carrier in business, you should get certified.
Offers High-Efficiency in Job
A certified Salesforce professional will have a more efficient processing ability. You can use innovation applications and great response to the customers and are capable of handling any tough situation without many hiccups.
There is no wonder that the employers are now slowly yet steadily getting to know the importance of a Salesforce expert in their business. Therefore, more organizations are hiring such individuals. Salesforce is on the boom right now that means a large number of applicants are competing for this same position. There are more chances of getting you competing with other certified individuals too.
You need not think twice regarding your paychecks when you have acquired this certification. Salesforce professionals get a maximum 40% hike in pay when they get certification added to their resumes. Therefore, this certification is an add-on to your paychecks.
On an average, a salesforce certified employee can earn 25% more than his/her fellow un-certified employee. Of course, you can always talk to your HR Manager when getting hired.
This certification can give you even-keel. For sure, if you are working on a Salesforce platform for many years, then obviously you know this better than the others. Therefore, having the certification mentioned on your resume makes you highly desirable. You need not stop yourself from achieving your dream job.
If you are planning a salesforce career and want to become Salesforce professional, there are certain things you should keep in mind for having a successful Salesforce career.
How to Get Ready for a Salesforce Career?
A Salesforce administrator is an expert in business. They have to work closely with all business stakeholders in learning and understanding issues that happen in the processes or gather requirement for the new process. Your main skill as an administrator is to know how this process requires and implements it successfully in the salesforce.
   Narrow down your Niche
You may or may not have an idea of what your dream job is in the Salesforce ecosystem. Start the hunt by exploring the roles that you are interested in. As said earlier, there are various job positions in Salesforce, which includes Administrator, Developer, Business Analyst, Consultant, Architect, and Project Manager.
   Attend Salesforce Events
There are plenty of choices available in sizes around the world. You can have met with virtually or personal with experts or attend conferences. You should attend events that involve roll networking or event pages on social networks.
   Be Prepared before Applying for the Job
If found a job ideal through networking and you are still cold on applying. You should ensure yourself for the job you want and make it fit for you. It can be tempting to give away resumes everywhere and apply for all. But it is not the correct way, you should think strategically.
The size of the company, working for any enterprise is different from to work with start-up even if the role is the same. Think about any specific industry you want to try. Are you looking for a job in a town or city? You can consider this factor because it can affect your lifestyle and life before applying with total confidence.
   Starting the Job
After you get your job as Salesforce professional, you have to work with the team. When you work with your team daily, you can know more about your role. This is the best part of working in Salesforce role. You can use customer success of the teammates by helping out the customers.
Communication may be critical also at some point. In this role as you work with different individuals of all levels, means from CEO to its end users. You should know how to communicate effectively with each one at each level.
   Ability to Listen to Empathize with Users
It's the customer facing position. The users are your ultimate customers. So they should get better customer service. Therefore you must have the ability first to listen and learn about their problems or issues they are dealing with and do the great.
   Handling Complex Challenges
With the support and collaboration, you experience from Salesforce community and team; you get the confidence in handling any complex task of Salesforce platform. You feel comfortable as well as excited to pivot from a product to another within this platform, depending upon each customer need you are working with.
The best part is to do good partnering with your customers and help them using your platform in the best possible way. Such incredible business pushes your limits on salesforce. In turn, you learn, grow and innovate in different ways.
One another thing you gain from salesforce product is you get open up for new job opportunities. Working at one place increases your confidence level and look for another job with great pay.
   Sometimes Think Out-of-the-Box
It is not necessary always to do everything on the set way of Salesforce. The best part of this tool is there is no such way set by Salesforce. It means for any process or set of needs multiple solutions are available. Thinks out of the box sometimes to ensure you captured all possibilities and every requirement of business are met. It means you have to think critical and creative for a successful salesforce career.
   Live your Value to give it Back Daily
The salesforce profession gives each employee time and space for giving back to the causes they care. You can participate in volunteering events every year. If you learn how to use this Salesforce, eventually you become the best employee of your company.
Salesforce platform offers you tremendous career opportunities. When you work with salesforce tools, it is estimated to increase by the next coming years in millions. But if you are planning to get started, it is overwhelming. The job opportunities are not limited for this platform. You are going to be successful at any cost with Salesforce career.