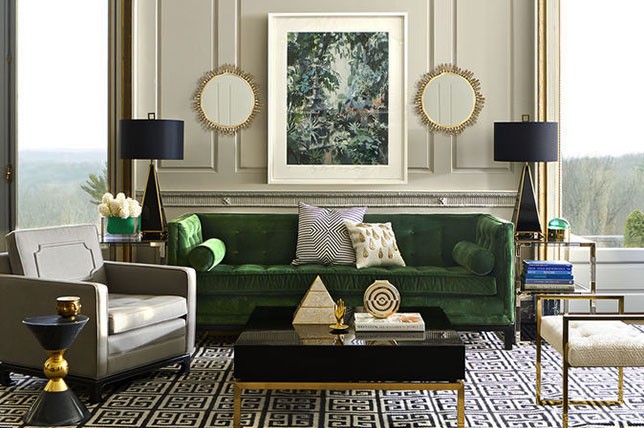 With 2018 drawing to a close, designers and interior experts are already on the hunt for the trends which will dominate the interior design industry in the upcoming year. We reveal which styles will be floating our boat in 2019, and which are predicted to sink.
Dark and Matte
After a prolonged craze for white, glossy furniture it's time to embrace the dark & matte trend. Dark and moody interiors are a well-established, popular trend with home interior journalists and influencers, and have been generally reserved for the owners of spacious apartments. In 2019, however, this is foreseen to change as dark painted walls, darker woods and sumptuous fabrics such as velvet are taking over giving your apartment a bold, dramatic touch.
Minimalism
If your place feels cramped, it's time for some serious decluttering. In 2019, minimalism is a trend to embrace, and it took the United States by storm by inspiring people to move into tiny homes, cut their wardrobes and donate their possessions.
Next year, look critically at your home's interior and dispose of things you no longer need. If you aren't ready to sell them just yet, store them in your local self-storage or repurpose – for example, a white sheepskin rug that no longer fits your hall can add a touch of luxury to your dressing table chair.
Natural Wood
Wood instantly gives warmth to an interior, whether it is a piece of furniture, a floor or even a wall of wood.
In 2019, we look toward the big comeback of Scandinavian styling. The more natural finishes and earthy colours are perfect if you're looking for spaciousness and an uncluttered environment, which is both relaxing and calming. Scandinavian style is also easy to maintain and keep clean, which works perfectly for anyone struggling to find spare time to do regular housekeeping.
Mixed Texture
Mixing different textures is definitely a big thing in the upcoming season. Wooden stairs go along just perfectly with glass balustrade, while concentrate walls bring a touch of originality to any home if mixed with leather furniture.
Hint of Colour
Coined Night Watch – a deep, almost jade-like green – has been officially announced the colour of 2019 by PPG Paints.
"The urge to reconnect with nature is driven by today's tumultuous, still somewhat rebellious, always-connected society. Empty space in our lives—such as downtime waiting for a bus or lulls in conversation—tends to be filled with the use of our smartphones and devices.," said Dee Schlotter, PPG's senior colour marketing manager. "Being surrounded by Night Watch can give some of that empty space back by pulling our memories of natural environments to the surface to recreate the calming, invigorating euphoria we feel when in nature."
However, if you're not ready to commit to painting an entire house with such rich side, try to incorporate a few Night Watch coloured accessories into your home décor strategy – think footstools, velvet pillows and lampshades.