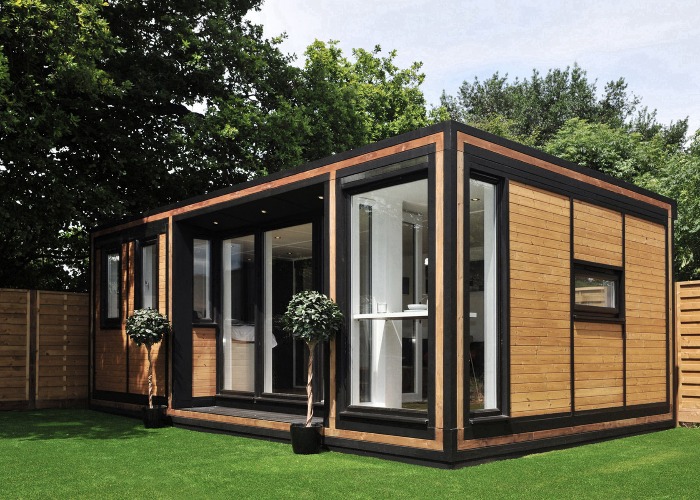 If you're considering a granny annexe or family annexe for your loved ones, or if you're about to buy an annexe to live in yourself, creating a low-maintenance space within a pre-existing garden can be difficult.
Today, we've teamed up with Norwegian Log to bring you some tips on how you can create a unique space that feels like an independent garden, within another garden, without a great deal of work or ongoing upkeep.
1. Turf out the turf
Gravel, decking and paving are popular options for annexes for a reason – they are hard wearing and low maintenance. As a general rule, the 'harder' the landscaping, the simpler it will be to look after. Gravel for example, while much harder wearing and lower maintenance than grass, would need to be kept in position, while slate paving would be less work.
If you're keen to maintain some green in your garden, there are now some fantastic quality artificial grass options on the market. Most are now difficult to tell apart from the real stuff, only you won't have to worry about keeping it watered, seeded, mown or edged.
2. Go potty
Introduce colour, texture and interest to small gardens by positioning pots of different sizes, colours and textures around the space. When space is at a premium, introducing different shapes, sizes, colours and textures can add dimension to an otherwise bland area.
Do however, remember that pots and planters will still require a level of maintenance. From the initial potting to feeding, dead-heading and watering. If you do opt for pots, be sure to choose some larger planters which can take a bigger volume of compost – this will mean they should remain moist for longer.
3. Opt for unfussy plants
Do your research before picking your plants. Opt for varieties that require little ongoing maintenance and steer well clear of:
Bedding and temporary plants – While bedding plants are great for a pop of colour, they're seasonal and will have to be replaced regularly. Choosing at least 80 – 90% permanent plantings and perennials will reduce dependencies.
Plants requiring regular pruning – While appealing, fruit trees or certain climbers like wisteria will require regular pruning. Consider bush forms of fruit instead, or self-clinging climbers.
Tender plants – Some delicate plants might require protection for the winter months, which would mean wrapping them or moving them to a sheltered location like a greenhouse. If you want to avoid this, look for hardy plants instead which can be left outside all year-round.